A Word About Honda Genuine Tires
Original Equipment tires are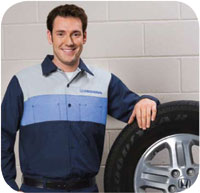 the type and brand that came factory installed on your vehicle.,
be sure that you are getting an exact replacement to ensure proper vehicle handling
. This includes not only the same manufacturer, same size, and same model, but most importantly, the same vehicle manufacturer's part number. Using any tire, other than the designated Original Equipment (OE) tire, could cause less then optimum performance.
Honda has worked closely with several tire manufacturers to produce an original equipment tire that optimizes a specific vehicle's handling characteristics. To do this, the OE tire is engineered differently with a stiffer casing, reinforced sidewall and tread design tuned for better dry weather handling. Original equipment Honda tires are specifically designed for noise reduction, optimal handling and fuel economy, weather adaptability and tire life.
DCH Honda of Temecula is equipped to provide you with the proper replacement tire.  To find out which set of tires your vehicle requires, please contact our Service Department at (888) 435-8989. 
For more information, contact our
Service Department at
(888) 435-8989

Check out our service and tire specials
here