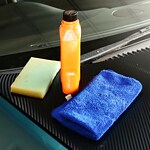 Maybe you are trying to sell your car and need to tidy it up quick to show it to a potential buyer. Or maybe you've been elected at the last minute to be the chauffeur for a group of friends. Whatever the reason, if you need to clean your car quickly, here are some tips.
For the interior of your car, concentrate on surfaces. Give the steering wheel, dash, center console and other surfaces a quick wipe down with a wet cloth or cleaning wipe. Concentrate on getting all the trash out of the nooks and crannies, such as door pockets and cup holders. You can clean the floors and seats quickly with a portable vacuum.
If you need to clean the outside, give it a quick hose down with a garden hose. You can also use a cloth or cleaning pad to hit trouble spots. For all your auto needs, come see us at DCH Honda of Temecula.