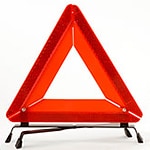 Getting a flat tire is never enjoyable. Suffering the problem on a lonely road late at night makes things worse. With the skill to change a tire and the ability to do so with little light, you navigate a tough situation. Accessing a spare phone to make up for the one that's not getting any reception lends a gigantic assist.
Yes, the first step towards dealing with any emergency involves being proactive. Understand that any time you drive, an emergency could arise. So take steps to deal with potential breakdowns at night or incidents related to inclement weather.
And take wise steps once things go wrong. Realize traffic brings with it risks, so the car must be in a safe place. Humans don't always possess the best intentions, so be wary of strangers. All in all, be ready for the unexpected.
Taking care of your car improves vehicle reliability. Set up an appointment with the service department at DCH Honda of Temecula to get up-to-date on maintenance.